NATIONAL CADET SPECIAL ACTIVITIES

One of the many benefits of the cadet programs are the opportunities available to all cadets to apply and participate in the many National Cadet Special Activities. The experiences learned and the friendships developed through NCSA is unmeasureable. As Director of the Cadet Programs for Louisiana, I highly encourage all cadets to take advantage of all that is available to you. Below is a link to the National Cadet Special Activities webpage, please look at all that is posted and although dates may change year to year, it will give you an idea of what is offered each year. The current listing is for 2016-17 and has all the information you will need to make decisions .

Good luck to all of you and have a great learning experience full of fun as well.

Victor Santana, LtCol, CAP
DCP, LAWG


Click on: National Cadet Special Activities
Click on: Other Scholarship opportunities
Click on: Academic Scholarships
Click on: Flight Scholarships
Click on: School Specific Scholarships
LAWG Cadet participates in NCSA Ranger School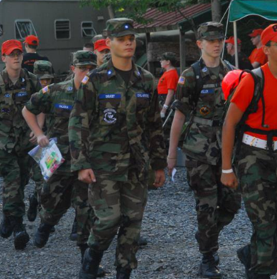 The Benefits of Participation

For those who do not know, Hawk Mountain was established in the late 1940s and early 50s by Colonel Philip Neuweiler of Civil Air Patrol as a search and rescue school with an emphasis on wilderness competency and survival skills. In those days post-WWII, CAP was transitioning from a purely military operational capacity (anti-submarine warfare and coastal patrol) to more relevant "civil" responsibilities which included Search and Rescue. At first, cadets in Pennsylvania Wing who wished to be trained in Search and Rescue were sent by Colonel Neuweiler to Westover AFB to be trained by Air Force Pararescuemen. The Pararescuemen, impressed by the capability of the cadets they trained, took to calling the cadets "Rangers." In 1956, Colonel Neuweiler moved his school to a property he owned at Hawk Mountain. Here, SAR training was accomplished by both CAP and Air Force personnel. However, in the 1960s, a cadet Ranger staff training program was implemented, thus replacing most of the school's need for Air Force personnel.
Now, Hawk Mountain Ranger School is the oldest and premier search and rescue training school in America, having been recognized nationally as the "Harvard School of Search-and-Rescue." It is held at two points during the year—a nine-day summer course and three day winter course—and has several comprehensive curriculum's being actively implemented at the school. These include the Cadet Basic Course, Cadet Advanced Course, Basic Communications Support Course, Senior Basic Course, Aircrew Survival Course, Ranger Staff Training Course, Ranger Field Medic Course, Ranger Team Commander Course, Ranger Command and General Staff Course and finally the Independent Study Course.
This being my first time to HMRS, I was required to take the Cadet Basic Course. Upon arrival, I was quickly in-processed and assigned to Squadron Charlie, one of the two basic training squadrons. During my first few days on the Mountain, we were rapidly acquainted with how life was to be lived at Ranger School. First, we set up our squadron's camp, situated in a wooded area of course, distinguished from the other squadron's camps by what was called "The Gate." This was simply a branch suspended between two trees with a squadron sign (in our case a medical stretcher upon which was scrawled "CHARLIE") resting above it.
Next was indoctrination. This was an ongoing thing throughout the first three days, basically fostering a culture of teamwork, selflessness, and obedience, while establishing the school's expectations for us cadets and the framework for what could became known to us as the daily grind. And what is the daily grind one may ask? Two words; very simple. A quick narration of a given day is as follows: Wake, PT, obstacle course, three ball soccer, morning formation, breakfast, classes, lunch, classes, evening formation, dinner, commander's time, bed, and for those unlucky ones, firewatch (equivalent to CQ duty).
Last, and arguably the most important part of the school itself were the classes. The Ranger curriculum is fundamentally the same as the material required to be mastered for such SQTRs as Ground Team and Urban Direction Finding. The difference is that the Ranger curriculum is designed to be broader in scope, universal in application, more technical, and much more comprehensive.
After three days of the aforementioned, we were equipped to competently accomplish any search and rescue task set before us, or so we thought. On Wednesday, we were all rationed some food, our team commanders of our squadron had us load up our day gear and extended (72 hour) gear completely and optimally, and then the entire school was sent forth on a six-plus mile "hike" up Hawk Mountain's 70-75 degree slopes—our Field Training Exercise had begun. Over the course of the FTX, we applied to the greatest degree every skill we learned to practical situations befitting realistic SAR conditions, everything from map work to crash scene evaluation to sleeping in last-second lean-tos in minimally beneficial weather conditions. By the end of the FTX, over the course of two and a half days, our squadron had hiked in excess of 19 miles, been force-fed a massive amount of life-saving woodsmanship and SAR skills, and been bitten by every type of insect on earth. In addition to having taken a total of around five injured, many life lessons were learned and permanently ingrained in all of our minds.
After arriving back at the main training facility, our team commanders wasted no time in continuing to cram our remaining days full of classes and activities. Thankfully, the onslaught of knowledge managed to be partially stymied by two greater objectives: Ranger qualifications and graduation. We had been studying for and getting signed off on special Ranger SQTRs all throughout the week to be able to officially be counted among the ranks of those elite in the field of search and rescue. Graduation provided us with that little extra motivational push to finish up the school strong and work a little extra harder. That, and practicing for graduation gave us a brief and needed reprieve from the "fire hose" (as staff called it) of knowledge being spewed in our faces.


When graduation finally came on Saturday, it was undoubtedly a bittersweet moment for all of us at the school. All the hardships endured and friendships forged in the fires of adversity served to reaffirm in us all what we had trained so hard for and had finally become: Rangers.